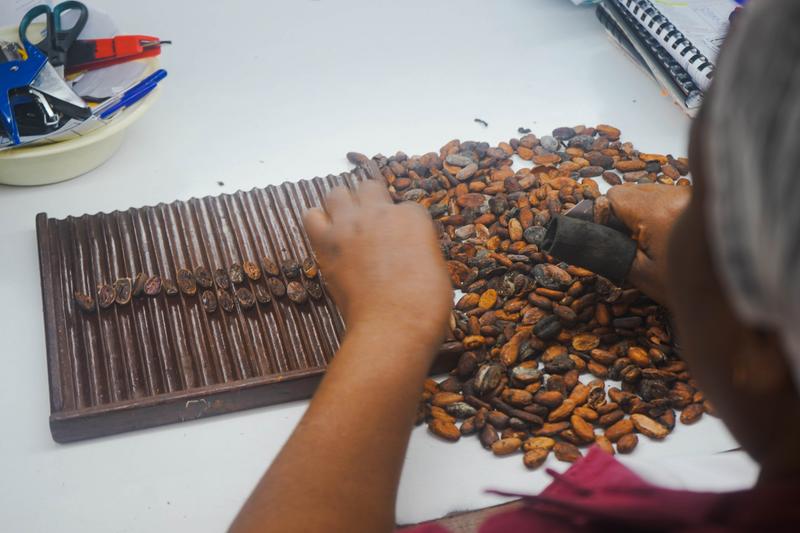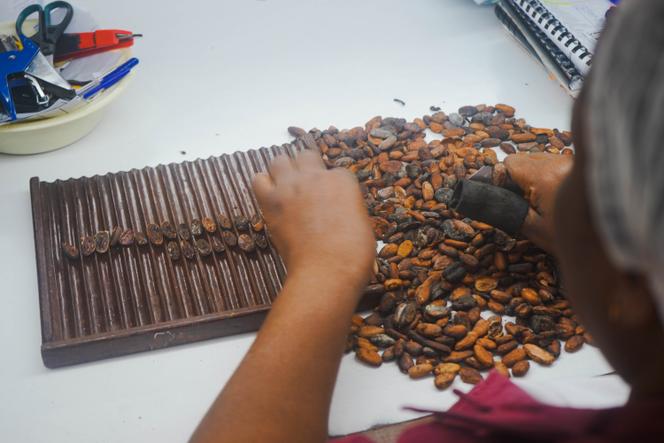 On the road to Yopougon, you can smell the Cémoi chocolate factory even before you see it. A powerful aroma fills the industrial area west of Abidjan, more heady as you approach the 2,000 m unit2. The 65 kg bags transported by lorry are weighed and stored there, then the cocoa beans are sorted and cleaned before being transformed into cocoa mass, butter and powder. These semi-finished products will either be exported as is, or transformed into chocolate bars, cocoa powders and spreads. The plant, in operation since 2015, has a production capacity of 10,000 tons per year. A unique company of its kind, since it is currently the only one in Côte d'Ivoire to ensure the entire processing of cocoa, from the bean to the chocolate.
Read also:
"In West Africa, the cocoa cartel risks failing to transform the lives of smallholder farmers"
Few chocolate shops made in Côte d'Ivoire" to have made a name for itself in the market. Fans can always turn to the media-focused Ivorian Chocolatier or the eco-friendly Mon Choco, but their prohibitive prices have confined them to a niche market for the time being. It costs 5.20 euros for a 90 g Mon Choco bar and 8.40 euros for a 100 g bar from the Ivorian Chocolatier, in a country where the guaranteed inter-professional minimum wage is 115 euros. Chocolate remains the prerogative of a wealthy clientele, to the point that in nouchi (French-Ivorian slang), we use "chocolate" or its abbreviation "chocolate" to mean "chic, bourgeois".
Côte d'Ivoire may be the world's largest cocoa producer, but half of the beans harvested in the territory are exported raw and almost all of the rest in the form of semi-processed products. The loss of earnings for the sector is all the greater since the creation of added value occurs mainly at the end of the chain.
A sector deemed opaque
To structure the sector, former President Laurent Gbagbo created the Coffee and Cocoa Stock Exchange in 2001, a body responsible for centralizing, supervising and monitoring all operations related to coffee and cocoa in Côte d'Ivoire. It was she who launched the Planter's Chocolate, a product intended for the European market, represented during the 2006 African Cup of Nations by star footballer Didier Drogba. But the brand – whose chocolates were made… in Switzerland, by Barry Callebaut – went into decline.
Plagued by repeated corruption scandals, the sector still has a reputation for being opaque and of little benefit to farmers. But the authorities have not given up on accelerating the move upmarket in the sector. At the end of January, the government announced the installation of three new cocoa processing plants, with the ambition of ensuring 100% of the first processing of its annual production by 2030.
You have 63.59% of this article left to read. The following is for subscribers only.