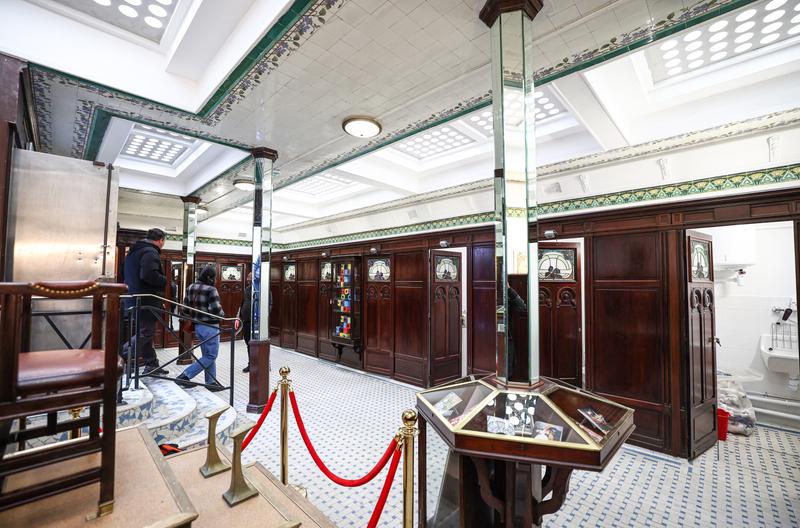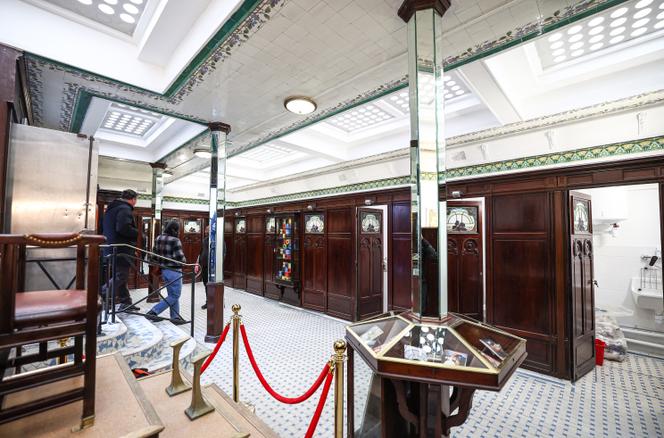 At the foot of the Madeleine church, in Paris (8e), a group of retirees bustle around a trompe-l'oeil metro entrance. Some rush into it with a hurry and descend the staircase, without paying attention to the mosaic tiles and the emblematic arabesques of the Art Nouveau style. They pay the sum of 2 euros to satisfy their needs. But most of them take their time. Two men in thin down jackets and hiking boots stroll around the place, scrutinizing its details, taking photos, feeling the banister of the stairs, contemplating the toilets without using them. Danielle Morin, a 78-year-old retiree who came to lunch in the neighborhood, is sunbathing, leaning on the entrance ramps. Nostalgic, this Parisian is enthusiastic about the reopening of the "lavatory": "It reminds me of the beautiful past of Paris, the one I loved. »
At the entrance, a discreet sign announces the existence of these lavatories built on the model of the English "lavatories". The universal pictogram for public toilets indicates an infrastructure of the City of Paris. Its translation into English, Chinese and Spanish also proves the tourist vocation of the place. Sociologist Julien Damon, author of Public toilets. Essay on urban conveniences (Les Presses de Sciences Po, 210 pages, 16 euros), recalls that they were designed in the undergrounds of Paris, at the beginning of the XXe century, for "to remedy the outrageous visibility of men relieving themselves on the surface and the resulting overflows".
Listed as a historical monument in 2011, the latrines have just been restored. For the town hall of Paris, "the work to beautify the Place de la Madeleine, the fire at Notre-Dame and the Covid-19 period delayed the operation". The work lasted nearly a year, at a total cost of 390,000 euros. The City, owner of the place, took care of guaranteeing the sealing of the site (240,000 euros). For this, the glass blocks, the ceiling through which daylight enters, have been consolidated. The Dutch company 2theloo, which specializes in the management of lavatories, was chosen for the restoration of the interior (150,000 euros). Fittings, locksmithing, sanding of the woodwork and cleaning of the stained glass windows were carried out to refresh the whole.
"A real journey through time"
"What makes the place exceptional are the stained glass windows, the woodwork, the mosaics, and everything that makes us believe that we are in the Belle Epoque! », marvels a lady from the group of retirees, Jacquie Garcin. The doors of the cabins, in mahogany, are decorated with a floral stained glass window in fir green characteristic of this period. A column of mirrors stands in the middle of the room. Colored toilet paper and early 20th century advertisementse century in postcards are exhibited in the window. The addition of modern bowls would go almost unnoticed.
You have 41.73% of this article left to read. The following is for subscribers only.