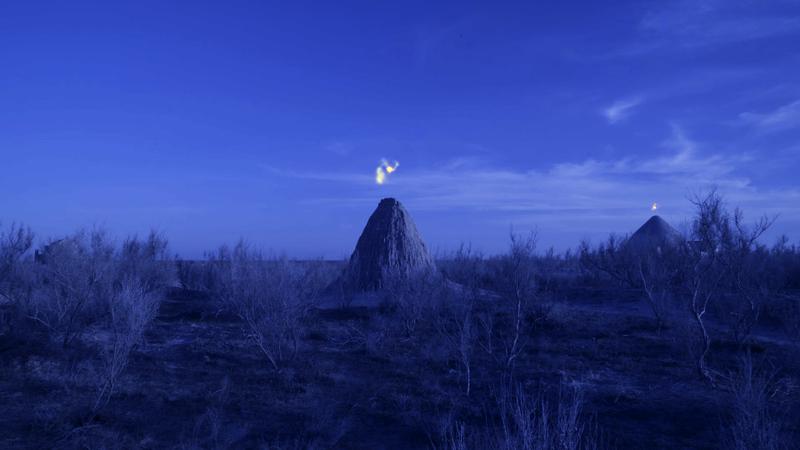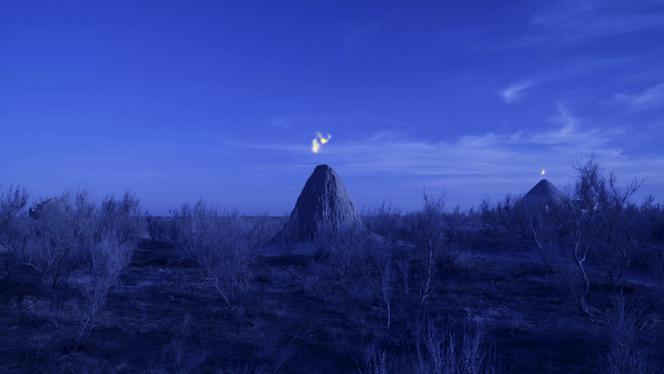 Along the Amu Darya River, which criss-crosses Central Asia from the highlands of Tajikistan and across the desert plains of Uzbekistan, a morning rite consists of sharing one's nocturnal dreams with the flow of water. From this connection between man and his natural environment, the Uzbek artist Saodat Ismaïlova has made a multi-screen video, Stains of Oxus (2016), which opens the major exhibition, his first in France, dedicated to him by Le Fresnoy-Studio national des arts contemporains, in Tourcoing. The flood of whispers captured from the inhabitants thus offers a traveling journey that shows, beyond a persistent dreamlike tradition, the transformations of a landscape with ecosystems ruined by Soviet intensive agriculture and its heavy industries.
Born in Tashkent (Uzbekistan) in 1981, Saodat Ismaïlova trained there in filmmaking, before completing her training in Italy, then at Le Fresnoy, where she was a student from 2015 to 2017. Heir to the Soviet cinematographic tradition, from documentary and narrative film, she has drawn her own meditative language, through which she endeavors to examine what remains of the vernacular cultures of Central Asia, between reality and awakening to other perceptions of the world.
From a landscape or a body, she opens floating space-times through the meanders of close pasts and ancestral beliefs, from underground meditations to metamorphoses of female bodies into planets or memorial survivals of eradicated totemic animals. , such as the Caspian tiger.
In Two Horizons (2017), a two-screen installation, merges two stories: a Turkish myth from the steppes, that of Korkut, the first shaman to escape gravity, and the Soviet space voyage by the first human, Yuri Gagarin, in 1961. It turns out that the Shaman's Tomb and the Baikonur space station are located about twenty kilometers from each other in southern Kazakhstan. Between the archaeological remains of the shamans' cemetery and the futuristic architecture of the cosmodrome, the artist aspires to capture the spirit of the place, the superimposed time of two quests for elevation, to the sound of the kobyz, a stringed instrument which imitates wildlife sounds and was invented by Korkut.
constellation of works
At the crossroads of reality and fiction, his works summon the enigma of the living and spiritual practices at this crossroads between East and West that is Central Asia, between the imagination of nomadic cultures, the decline of resources natural or difficulties of the female condition. With, always, work on music, carrying the experience of modified states of consciousness. On the mezzanine of the vast exhibition space, the artist presents his rich creative process in parallel, where we can see that archives of all types (books, maps, photos, films, etc.) always constitute a starting point.
You have 42.06% of this article left to read. The following is for subscribers only.